Ragdolls in Massachusetts
Welcome to Regaliadolls Ragdoll Cattery. We are a small TICA and CFA-registered hobby breeder located in Millville, Massachusetts. The beauty of our cats and kittens reflects TICA and CFA breed standards for the traditional Ragdoll. They also have the ideal temperament that is expected of a Ragdoll- calm, social, sweet, friendly, loving. This is due to our selective breeding along with socialization from birth. We also pride ourselves on the health of our Ragdolls. All breeding cats are DNA tested both MC and RD HCM and polycystic kidney disease prior to breeding. All foundational cats and any newcomers are tested for FIV and FELV. Our kittens come with three health guarantees because we are certain about the health of our Ragdolls. You can see some beauties that have been adopted here: https://regaliadolls.com/available-ragdoll-kittens-for-sale/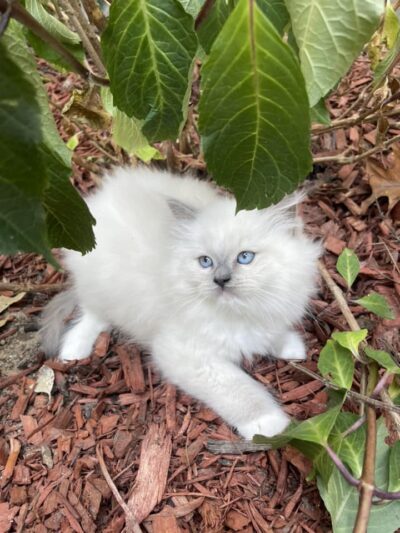 About Me
My name is Julie (owner of RegaliaDolls), and Ragdoll cats have been a big part of my life for over 15 years. I learned about the breed at 10 years old when my mother, owner of Rhetorical Ragdolls of Massachusetts, became a breeder. As a child, I loved spending time with and caring for our Ragdolls, as well as helping to show off their beauty at cat shows. Now, over a decade later, I am following in my mother's footsteps and blessed to be able to bring this cherished breed into my own home. I have been breeding Ragdolls since 2019.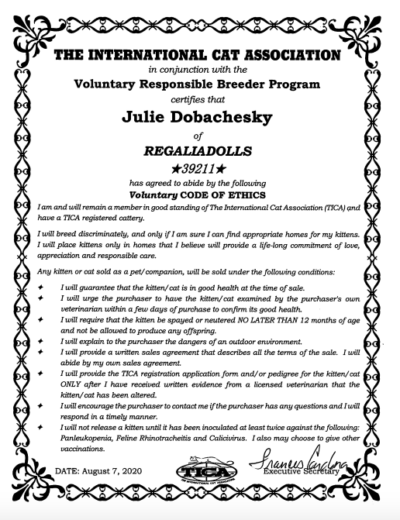 About the Ragdoll Breed
Ragdoll cats are calm, gentle and sociable without being demanding. They are perhaps one of the most affectionate cat breeds. They get the name "Ragdoll" because of their tendency to go limp when being picked up. Some people say they have "dog-like" personalities because of how loyal and devoted they are to their owners. Physical characteristics of the Ragdoll include deep blue oval-shaped eyes, solid weight, medium-sized rounded ears, and silky soft "rabbit-like" fur. Visit https://tica.org/breeds/browse-all-breeds#ragdoll for more information on breed standards.
History of the Ragdoll Breed
The Ragdoll Breed was started by a woman named Ann Baker in Riverside, California during the early 1960's. The original foundation cats of the Ragdoll breed were in fact all strays that roamed free around Ann Baker's home, as well as her neighbors. The first litter of "experimental" kittens was produced by an all white "angora-like" female cat named Josephine. Ann Baker thought this breed was some sort of miracle. All of Josephine's babies were rumored to be floppy, and lovable teddy bears, despite where they came from, a feral outdoor environment. There are many stories surrounding the first litter. Ann Baker also thought they first litter of kittens may have been this floppy and laid-back because Josephine was hit by a car, and Baker took the litter in to nurse back to health. Baker thought the car accident was what must have made the kittens so floppy and such ideal family pets. There were also many other foundation cats who are in all of our Ragdoll pedigrees today, one male cat being "Blackie" who was a solid black cat, resembling a "Burmese", and another male named "Daddy Warbucks" who was a Seal Point Mitted Birman. At the time Ann Baker was also experimenting with the creation of other breeds that may have been strung off of these lines, like the "Honey Bear". These breeds she experimented with were never recognized, or advanced much further than her own home. The early Ann Baker was also a Persian breeder.
Ann Baker started her own association called IRCA (International Ragdoll Cat Association), and she also had a patent on the Ragdoll name. She didn't want the Ragdoll taken away from her, and wanted to control the breed. Denny & Laura Dayton were the first breeders to get some of her Ragdoll Cats, and take them into advancement, getting the breed accepted in many other associations. The Daytons worked hard on putting together a complete pedigree system, and kept very nice track of all of the early Ragdoll records (some which they worked very hard to get released by Baker). Baker was very hostile towards The Daytons for taking over her breed, and stealing her fame. She tried her best to get the breed back but in the end lost the fight. Baker remained pretty tight lipped about the early Ragdolls, and only gave information to those she trusted. The Daytons are responsible for the Ragdoll's big break in America, and soon they spread to England. The Dayton's called their cattery "Blossom-Time". You can find the Blossom-Time name in all traditional Ragdoll Pedigrees.