-Updated August 2023-
We are now accepting deposits on kittens that will be ready to go home this winter, 2023-2024.
Please email

[email protected]

to be placed on our waitlist.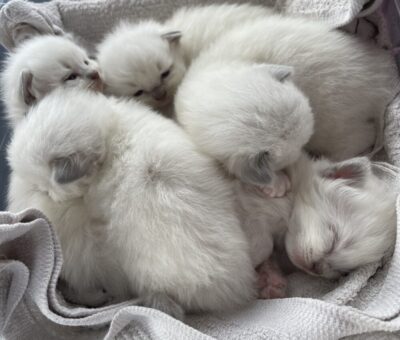 We try to respond to all email inquiries about our Ragdoll kittens for sale within at least 48 hours, but please be patient as we have many emails coming in on a daily basis.
Included in the Price of your Ragdoll Kitten
Spay or neuter of your kitten
Distemper vaccines are due at ages 8 weeks, 12 weeks and 16 weeks. Distemper vaccines will be up to date when you pick up your kitten, age appropriate. Any future vaccines due after you pick up your kitten are not included, you may pick up kitten your after all three distemper series and rabies are given, typically 16 weeks old, but age may vary. Rabies vaccine is given at the discretion of the veterinarian (typically the criteria is 12 weeks and older AND at least 3 pounds).
Revolution application (flea prevention)
Multiple (preventative) deworming cycles
Three separate health guarantees!

Initial 5 day health upon adoption
One year FIP guarantee
Five year hereditary health guarantee

Kitten kit (small bag of food, treats and toys)
Breeder support for the life of your kitten. We encourage you to keep in touch with us for continued support with ANY issues, or just sharing the Ragdoll experience!
Microchip for protection if your Ragdoll is lost or stolen
Minimum of 60 hours of training/socializing with people, children and cats. We provide litter box training, training to selectively sharpen claws on a scratching posts, training not to jump on counters, etc.
One month FREE health insurance from Trupanion to cover illness or injury
Cat carrier included on take home day
We Deliver: Massachusetts and Surrounding States!
**We also offer (at an additional cost) door-to-door courier service for Massachusetts, Rhode Island, Connecticut, New Hampshire, Vermont and Maine. In addition, in-cabin flights for long distance delivery with our trusted courier is also available. If interested, please let me know as early as you can for pricing/booking.
Some of our past Ragdolls!